About: Gavin Moylan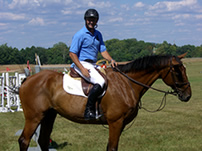 Gavin is originally from Grande Prairie, Alberta, Canada, where he started riding horses at the age of 8. At the early age of 18, he made riding his career, eagerly taking on a variety of jobs within the horse industry to reach his goal of being a professional jumper rider. He has built an impressive and well-respected business from the ground up and gained invaluable knowledge and experience from notable horsemen and women along the way.

Soon after graduating from high school, Gavin launched into horses full-time with a two-year job as a working student for a Canadian show jumping team member in Vancouver. For a number of years after, he exercised racehorses, started thoroughbreds, and taught beginner riding lessons. In addition, while Gavin was in Canada, he developed his own style of working with young horses using the round pen and traditional round pen philosophy and techniques.
After moving to Virginia in 1995, Gavin rode for a number of sales and training stables, specializing mainly in hunters and jumpers. In one of these positions he worked and trained with an international-caliber dressage trainer and rider for a year. Additionally, throughout his career, Gavin has worked with renowned international level show jumping professionals to perfect his passion for riding at the Grand Prix level.

Gavin started his own business in 1998. He worked primarily with young hunters and jumpers, earning a reputation for fixing problem horses. Beginning at local hunter and jumper shows, news of Gavin's talent for training horses spread. He moved up the show ranks quickly as horses, green and made alike, were sent his way to train and ride. He continues to show horses successfully on the "A" circuit in divisions ranging from Baby Green Hunter to Grand Prix.

Principles
Gavin has a clear-cut philosophy for training horses. Drawing from his interdisciplinary background and years of experience, Gavin feels strongly that each horse needs to be treated as an individual; therefore, each horse should be trained according to its individual needs. Each horse has to, first, be understood before placing it in a specific regimen or mold. While this certainly takes time, Gavin finds that he and the horses quickly come to understand each other and progress easily into a customized training program.

Training Program
Gavin's hard work with many professionals, and, more importantly, many horses has paid dividends in developing his system of training. Horses in his program are allowed to develop to their full potential, whatever that may be, and, time and time again, find their niche. Whether it be starting a young horse over cross rails and cultivating a Regular Working Hunter, taking a low-level jumper with a stopping problem and turning it into a horse willing to compete in the High Junior/Amateurs, or just giving a made horse some confident training rides, Gavin has the patience, work ethic and know-how to effectively train a horse.

Coaching
As a coach, Gavin starts from a base of good flat work and employs dressage basics pertaining to the horse's roundness and straightness. Having an understanding of how to control one's horse properly on the flat is important, and he encourages his students to carry their flat work into their work over fences. He has taken students to new heights in their riding abilities, instilling confidence and clarity along with technique. With a coach who sincerely cares about his students' improvement and achievements, Gavin's students are consistently successful with many wins and championships at top "A" rated horse shows.

Gavin accepts students of all levels for training as well as horses of all levels for training and/or consignment. Click Here to see Gavin's horse show schedule or Like us on Facebook to see the latest horse show news.